Most people realize that it's important to apply anti-counterfeit hologram labels to the packaging of their products, but they might not realise what the options are. 
There are many different types of authentication (security) labels available and they can be applied in various ways, including using a special ink, micro-text, holograms, lenses, sequential data numbering and other digital interactive methods of authentication.
Read on for more information about how to identify your products as genuine and authentic with anti-counterfeit hologram labels.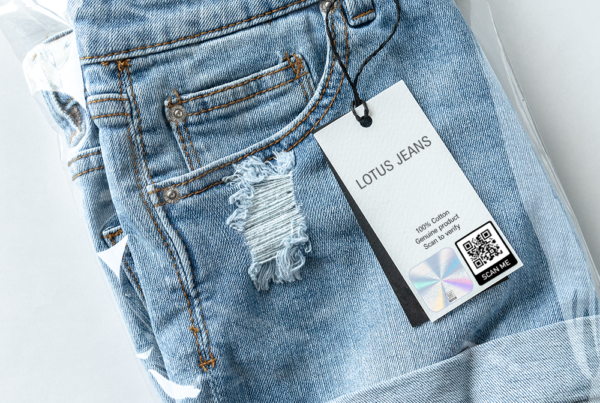 Benefits of anti-counterfeit hologram labels
A well-known manufacturer's product is usually associated with superior quality compared to a non-branded or lesser-known brand's product. By applying anti-counterfeit hologram labels, consumers can quickly and easily identify the genuine article. These types of labels authenticate and build consumer confidence and drive sales.
Watermarks or QR Codes alone don't provide enough protection
Whilst they have their own uses, watermarks and QR codes alone are insufficient as anti-counterfeiting mechanisms. If someone can figure out how your product is authenticated, then they know how to make a copy of it. There are also privacy concerns: if someone knows how you authenticate your products, they might be able to trace those products back through supply chains. QR codes in conjunction with hologram security labels offer a number of advantages over just using either technology on its own. For example, QR codes by themselves aren't very secure because people can easily take pictures of them and steal them from online databases. Watermarks alone won't convince customers that an item is genuine. So, what are the options?
Combine several anti-counterfeit features with your labels.
Several are better than one. While holograms, QR codes, and individualised text can also be added on to security labels, an effective anti-counterfeit strategy should combine these methods, even adding embedded RFID chips. Those chips can include information about when and where your product was manufactured (which, for example, might prove that your blue jeans were made in a specific city during a specific time period). All of these additional layers of security will not only deter counterfeiters from trying their luck—but they'll also give your clients peace of mind knowing that they are buying genuine products.
The options available at Lotus Labels…
We can add several authentication markers to your labels, whether they are based on an existing design or a whole new security label.
We can add serial numbers to your labels – each serial number can be linked to a serialised QR code which upon clicking/viewing/following the link can (if the technology is set up) give the consumer details about the product, including the country to which it was delivered to, adding a layer of authenticity. This authenticating method can also be used by brands to engage with their consumers and even encourage them to "scan and check" through competitions or special rewards for checking. This is also suited for asset tracking.
We can produce labels with special optical features such as fresnel lenses. These can be placed separately or as an overlay for distinguishable security markings, serial numbers, logos or holograms.
Micro text is another way of adding authenticity. Tiny letters, words or slogans pertaining to the brand can be printed in the background of a label. There is also the option to combine security printing with bespoke substrates that are difficult or virtually impossible to copy. We have the experience and would like to support you with your brand protection. 
Please talk to us about adding authentication to your labels today and come up with a unique, special solution. Click here