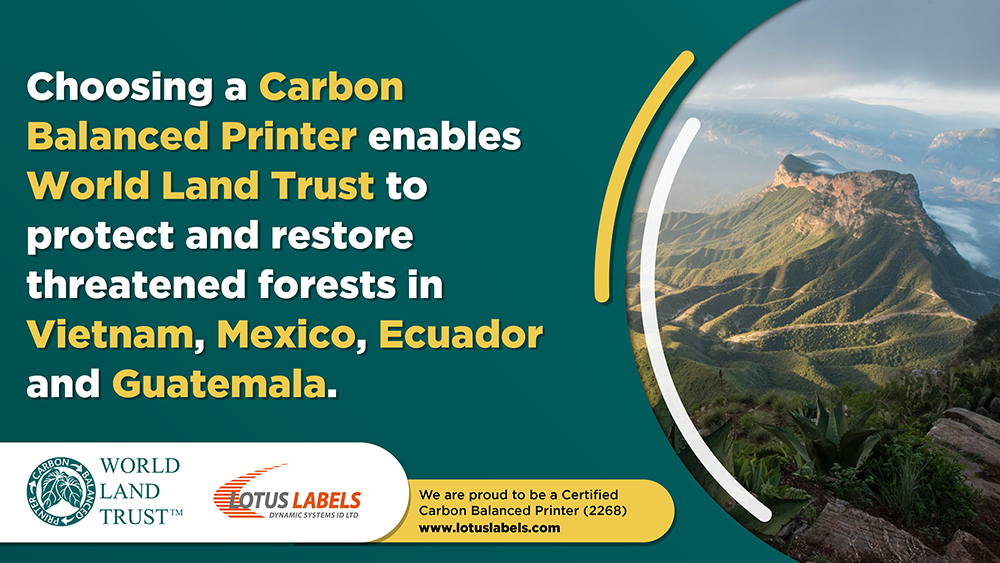 Lotus Labels, proudly supporting the World Land Trust.
World Land Trust (Charity No. 1001291) protects the world's most biologically significant and threatened habitats acre by acre. 
Since its foundation in 1989, World Land Trust and its overseas project partners have been instrumental in purchasing and protecting more than two million acres of tropical forest and other threatened habitats. 
The Carbon Balanced Print and Paper programme has enabled WLT to offset over 250,000 tonnes of CO2. The work of World Land Trust is actively supported by its passionate and dedicated patrons.
The World Land Trust Mission
Helping people across the world protect and restore their land to safeguard biodiversity and the climate.
"The money that is given to the World Land Trust,
in my estimation, has more effect on the
wild world than almost anything I can think of." 
Sir David Attenborough, WLT Patron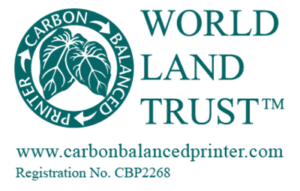 Eco-Friendly Options For Product Labels.
As a Carbon Balanced Printer, Lotus Labels are supporting the global conservation charity World Land Trust in its crucial efforts to protect and preserve threatened, carbon-rich habitat around the world.
Our material suppliers have been hard at work in their laboratories and some impressive sustainable products are appearing on the scene.
We were particularly impressed with compostable papers and films – now also including eco-certified adhesives for the first time. In combination with packaging containers made from similar raw materials, this can provide convincing solutions. It gives choice and assurance to eco-savvy consumers who care about plastic content reduction. 
Our World Land Trust Carbon Balanced Certification is just one part of our strategy to reduce our environmental impact. We strive to continue to invest and innovate to ensure we offer our customers and the planet the most sustainable solutions possible. 
Choosing Carbon Balanced helps fund World Land Trust's ecosystem protection and restoration projects in Vietnam, Mexico, Ecuador and Guatemala.
Forests are the lungs of the Earth, producing around 30% of our oxygen. Forests provide habitats for 80% of amphibian species, 75% of bird species and 68% of mammal species. Yet, since 1990, it is estimated that some 420 million hectares of forest have been lost—an area 17x greater than the United Kingdom. 1
Contributions to the Carbon Balanced programme are used to protect land from deforestation and degradation, preventing the release of CO2 into the atmosphere while preserving invaluable ecosystems.
Protecting existing forests, through Reduced Emissions from Deforestation and Forest Degradation (REDD+), is World Land Trust's preferred approach for biodiversity conservation. Where appropriate, this technique is supplemented by planting native trees in areas of cleared land.
All of WLT's forest protection and restoration projects have measurable, long-term local community benefits, a positive climate impact and significant biodiversity conservation value.
What is a Carbon Balanced Printer?
A print business becomes Certified Carbon Balanced when it has measured its primary carbon emissions and balanced (offset) these impacts through World Land Trust's global Carbon Balanced projects.
Certified Printers can exclusively offer their customers Carbon Balanced Print and Carbon Balanced Paper-based Packaging.
Carbon Balanced Printers are leaders in sustainability and recognise the critical and continuing need to reduce avoidable emissions wherever possible.
Therefore, in line with keeping the global temperature increase below 1.5°C, Carbon Balanced Printers commit to halving their scope 1 and scope 2 carbon emissions by 2030 (2018 base year).
Carbon balancing doesn't stop there. 
We are actively searching out, testing and getting enthused about new sustainable materials and working practises which will enable Lotus Labels to do more for our environment.
If you are working towards reducing your environmental footprint, let us help craft your next project to help you along that journey, there is still a long way to go with all that we can collectively do to reverse our impact on the environment, we appreciate we can always do more, but for your next project why not chat with us? 
This is one small step for labels, one giant leap towards carbon neutrality.
We look forward to sharing more of our journey with you.