From the distant corners of the Arctic's ice shelves to the absolute darkness of the seabed in the Mariana trench, there is no disputing the fact that our throwaway consumption habits are having an impact on ecosystems.
Packaging is at the heart of our planet's issue with disposable plastics. Nearly half of the five million tonnes of plastic that we generate each year in the UK alone is used in packaging. Over 91% of these plastics aren't recycled for a variety of reasons. The label element in packaging waste is usually minor in comparison with the actual containers. But still, it is important to look at the subject holistically.
We all know it's time for change to help the environment, but without getting depressed and to note, it is not all doom and gloom, this change can also be applied to the labels we use for our products to help reduce their impact on the environment.
But what is it exactly that makes a label eco-friendly? The answer to this question may be more complicated than you would expect. Let's break things down.
Materials
The materials or substrates that constitute a label are likely to immediately spring to mind when considering its sustainability. Many of the labels our industry currently produces use non-biodegradable plastics such as polypropylene and polyester. Other sources like paper traditionally have been made from virgin paper pulp direct from forests. Whilst many of these labels can theoretically be recycled, for a plethora of reasons this often isn't the case, and many end up in landfills regardless.
The search for suitable eco-friendly replacements has been ongoing but we are finally starting to see some considerable progress.
Four main keywords have emerged in describing materials considered to be eco-friendly.
These are recycled, recyclable, biodegradable, and compostable.
Recycled: Recycled products and materials are made in whole or in part from previously manufactured materials, their original form changed by mechanical or chemical process to produce a new product/material whilst manufacturing with a reduced amount of virgin raw materials.
Recyclable: Depending on available recycling facilities, packaging can be separated into different recycling streams which are typically categorised into organic/compostable materials, paper and cardboard, plastics, glass and metals. As a rule of thumb, mono-materials are recyclable if they can be separated, composite materials are usually not separable and hence are not easy to recycle and mostly end up in landfill or waste incineration. Most label materials are mono materials and therefore recyclable. It is their combination with other materials that pose challenges to recycling operations. Initial product design considerations are essential in creating recyclable packaging solutions.
Biodegradable and compostable: Often these two words are used interchangeably, but is important to be sensitive to the differences in their meanings:
Biodegradable materials will, as is evident from the word, "degrade" (they will break down into minuscule pieces within a relatively short period of time).
However, biodegradable materials do not fully decompose and do not release nutrients back into the earth. In their degraded state, these materials can be further broken down by microbes into biomass, water, and carbon dioxide, but you may still be able to find traces of the material after it has biodegraded.
Compostable materials, in contrast, break down entirely, releasing nutrients back into the earth. Whilst some of these materials can be added to home compost heaps, many of them are better suited, or even exclusively require, the regulated conditions provided in an industrial composting plant.
Raising awareness of these definitions is important to ensure consumers aren't misled about the environmental impact of product packaging. The Confederation of Paper Industries (CPI) urges specific attention to products that vaguely claim their paper-based packaging to be biodegradable. They argue that any cellulose fibre could theoretically be biodegraded in very specific conditions, but that this is often not the case in practice, and so such claims can be considered greenwashing.
When expanding our range of eco-friendly labels at Lotus Labels, we decided to focus on innovative new environmentally-friendly materials which we will use as examples below. Nonetheless, it is important to note that there is a growing field of impressive new biodegradable and compostable substrates emerging from numerous companies across the industry and many of our existing paper and filmic varieties are seeing an increase in recycled material content forming their makeup.
Evaluating eco-friendly substrates.
These examples are only two amongst many that justify optimism in the potential for an eco-friendly transformation in the labelling industry. These substrates are as dynamic and beautiful as they are ecologically friendly. Typically, these Eco-labels are delivered printed but without a laminate or varnish to simplify the recycling process. There is some confidence in the prospect of eco-friendly laminates and varnishes that can increase mechanical toughness and longevity, but for now, watch this space.
Whilst there is some cause for optimism and celebration in the emergence of eco-friendly labelling, continued investment and innovation will be imperative in producing eco-friendly substrates that are more affordable and durable.
With paper stock, there are different options when sourcing materials ranging from 100% recycled pulp to paper pulp sourced from managed forests. FSC www.fsc-uk.org runs a global forest certification system that allows businesses and consumers to identify, purchase and use wood, paper and other forest products made with materials from well-managed forests and/or recycled sources.
Hextracoat .242
Hextracoat is suitable for high-quality labels. The semi-gloss coated surface of Hextracoat offers excellent quality with all conventional printing methods as well as with thermal transfer printing and laser. The pulp for this paper comes from 
FSC certified
 forest management and other controlled sources. Adhesive 62N is a permanent adhesive and is compostable.
Hcoat Recycling .236
Natural white label paper, semi-gloss coated on one side, made from 100 % post-consumer recycled fibre. The Hcoat Recycling product does leap forward in utilising recycled materials.
White rPP (Recycled Polypropylene) Label
rPP label is made with 30% post-industrial recycled PP resins. This product is designed for brands that seek to increase the recycled content of their packaging without the need to alter brand aesthetics, as it delivers the exact look and feel of a conventional PP label, as well as equal print quality and application performance. rPP label is available in white and offered with a topcoat.
White Cane Fibre Paper
Whilst this printing paper is certified compostable, the experts advise that it should be composted in an industrial composting plant. This material does not contain any wood fibre, but is instead a composite of sugar cane fibres (95%) and hemp and linen (5%). These three materials are much more easily and efficiently grown and harvested than the wood typically used to create paper, meaning that this impressive substrate is both highly recyclable and renewable. This material was specifically designed as eco-friendly paper for wine labels, but it is versatile and can be successfully applied to a wide variety of products.
Natureflex™
This remarkable substrate is "OK Compost Home" certified for home composting. However, unlike the white cane fibre paper, this material is a product of wood pulp. Natureflex™ is an ingenious feat of eco-friendly packaging material; the substrate is highly versatile, it is available in both a white or clear form, and it's perfectly suited for application to entirely biodegradable packaging. It is safe and effective in direct contact with food. The material has to be kept separate from conventional plastic recycling. Natureflex™ is available in both clear and white and even as metallised varieties.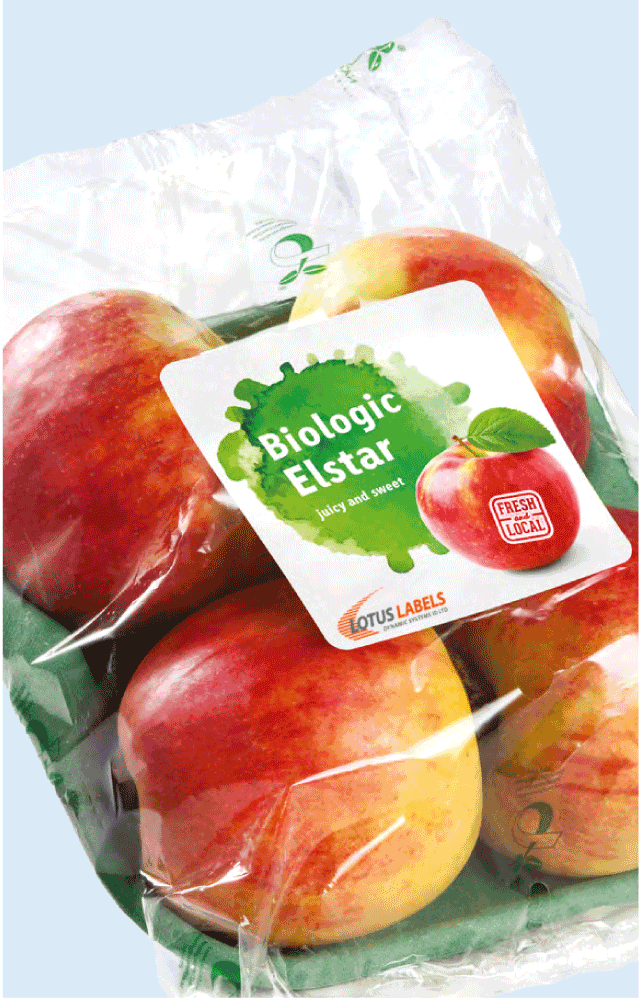 The adhesive used to apply labels onto products is an aspect that might easily be overlooked when considering their sustainability. Fully compostable adhesives have now emerged. Other, specialised adhesives allow the separation of a plastic label and plastic container material in a process known as CleanFlake™ technology which provides the opportunity for better rates of recycling of different plastics. 
Honesty and communication
A recent study headed by the UN Environment Programme found that only 17% of packaging provides consumers with clear and detailed enough information to make an informed decision on the packaging's environmental impact.
Fortunately, there are some independent bodies to certify the extent to which a product has eco-friendly packaging. TUV Austria is the authority figure on a product's eco-friendliness in Europe, and their three awards: 'OK Biodegradable', 'OK Compost Industrial' and 'OK Compost Home' are trusted certifications given to a product's packaging after strict and extensive testing.
There are also other certifications that companies can display on their packaging that refers to their business and production practices. Consumers can look to trusted certifications such as these for guidance in understanding the environmental impact of a product and the company that produces it.
How2Recycle is a program that aims to place uniform and authoritative information on labels for the consumer to understand how a product should be or could be, recycled. The How2Recycle diagrams exhibit clear guidance on what the consumer should do with the product to prepare the material for recycling, the method of recycling and where to drop the material off, as well as the type of material the product is made out of.
As an example of how this could be useful, it is important to be aware that even if many labels themselves could actually be recycled, biodegraded or composted, the fact that they are often attached to a different material container, the container recycling process can be become contaminated. However, if the label and container are made from the same or similar material, the chances for successful recycling are good.
Guidance by How2Recycle, however, would make it clear to the consumer if a label should be removed and recycled separately.
Summary
The actual sustainability of a label can clearly be a complicated and indeterminate affair. There is an array of different variables and aspects of a label's production, marketing and information that can affect its ultimate environmental impact.
However, we're here to help you along your journey, if you're looking to make your labels eco-friendlier, or you simply want some guidance on any of the above, at Lotus Labels we are happy to assist – don't hesitate to contact us.
Disclaimer: All details were correct at the time of writing, each material's composition may be subject to change. Any trademarks mentioned are the property of their respective owners. E&OE.