Producing labels that equal the skyrocketing quality of British wines
The historical significance of wine labels
Hidden deep within the resplendent tombs of Egypt's ancient pharaohs amongst dust smothered jewels and statuettes of the gods, evidence of some of the earliest labels to ever be recorded was unearthed. At least as far back as 1550 BC, the Egyptians labelled their wine by painting hieroglyphs onto papyrus (an early form of paper), which they then stuck onto flasks using natural adhesives such as honey. The aspects of the wine that these labels recorded might seem remarkably familiar to us today: they were precise and functional, detailing the year the wine was made, its region of origin, and the amount, style and quality of the wine encased inside.
Tutankhamun's vault, for instance, was found stacked full of labelled wine bottles from only a select few years. In addition to deepening our understanding of the technical brilliance of this civilisation, King Tut's labelled jars reveal the sophisticated sensitivity of the ancient Egyptians' palates to the specific vintages that garnered acclaim amongst the empire's ruling classes!
Wine's role in inspiring these early labels is perhaps unsurprising. Of course, it is largely the hyper-particular environmental conditions within which a batch of grapes grow that determine the flavours, style and quality of the wine they produce. Due to a fascinating plethora of factors, the same variety of grape can yield vastly different flavours depending on the climate, and even the particular field, in which they matured. As some
regions, and some yearly weather patterns, are clearly better than others for producing exquisite vino, indications of a wine's locational source and vintage are still as helpful today as they were two thousand years ago in informing a consumer's decision.
The beautiful intricacy of modern wine labels
In the 19th and 20th centuries, amidst the boom of Europe's wine industry and the emergence of mass printing, wine labels once again assumed their place at the vanguard of product packaging's evolving trends. The splendour and elegance associated with wine, in addition to the difficulties of determining the quality or distinctiveness of a bottle without first opening and tasting it, drove winemakers to elaborately embellish their labels to attract wealthy customers. The drive for beautiful wine labels reached extravagant heights; by the 1970s French wine merchants were even paying famous artists including Chagall, Kandinsky and Picasso to design their labels.
Wine's maturing qualities have also historically inspired a grandeur to its labelling, above and beyond that attributed to the packaging of most other consumable goods. Bottles matured for long periods of time can become iconic, and the propensity to maintain and display unopened bottles of wine for years or even decades explains, at least in part, the visual richness of their labels. In turn, the intensity of the competition that winemakers face on our supermarket shelves today has ensured the continuation of this tradition of wine-labelling artistry to the present.
Studies have found that 82% of our consumers base their wine selection on the appearance of a bottle and its label, elucidating the unique necessity for winemakers to design labels that are able to embody the quality of their product whilst grabbing the attention of a consumer that is overwhelmed with options. Whilst the beauty of a bottle grabs the consumer's attention, the harsh environment that a bottle will live in is often overlooked. Cold, damp, wet, chilled, and icy manufacturing and storage areas are all factors that make choosing the right wine label material of paramount importance, and that's where our experience and knowledge of substrates comes in. Ensuring a label material is used that won't slide off the wine bottle or develop blisters at the first glimpse of moisture is just as important as designing the most aesthetically pleasing of label designs for consumer attraction. 
The rise of British wine
British wine production has been exploding. In the past five years alone, the amount of wine produced on our soil has grown by 250%. In particular, the chalky, temperate, southerly leaning slopes of South-East England have proved fertile ground for sumptuous sparkling wine, and growing renown for the British grape appears set to only further swell and propagate.
And so the question re-emerges in a new setting: how can we produce labels that both match the brilliance of this wine whilst communicating the identity and uniqueness of its origin?
Marlings Vineyard – A Polite White.
These talented Hampshire winemakers have opted for a timelessly classical look that immediately asserts the quality of their wine.
The Marlings distinctive logo sits in white lettering on a black background, whilst the Marlings Vineyard crest sits in the centre of the label set in rich dark gold foiling to underline the quality of the wines produced from this UK vineyard.
A really impressive label on an impressive bottle of wine.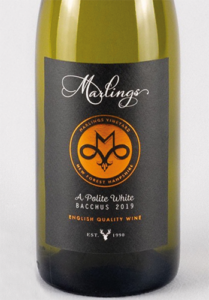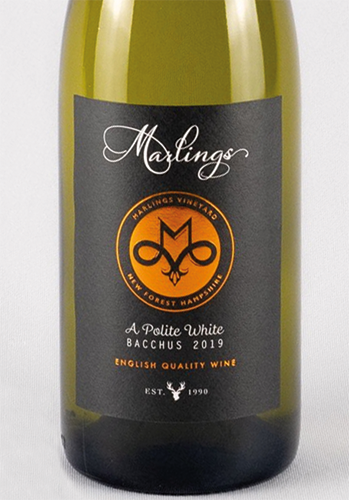 Newhall Vineyard – Purlai Gold
In contrast, the Essex winemakers Newhall Vineyard opted for intricately modern labelling when releasing their Purlai Gold.
The team at Newhall have complimented the boldness of their sleek bottle with a modern typographical font design. This beautiful design includes a sophisticated, intricate metallic foiling printed onto a Tintoretto Ivory paper and the label itself is finished to perfection completing the immaculate classical look expected of a quality wine.
Both of these designs illustrate quality labelling designs, techniques and finishes that can be used to embody the exciting qualities of our burgeoning British wines.
Our State-of-the-art facility investment.
At Lotus Labels we have over the years invested substantially in state-of-the-art Wine Label production equipment.
Conveniently located in the heartland of southeast England's vineyards, we can produce superb labels utilising a multitude of embellishments, foiling, fluting, embossing, debossing and holograms for brand protection, all perfectly produced on a multitude of substrates suitable for a wine cellar or ice bucket environment. 
We are experts in wine label manufacturing with a vast array of tools at our disposal. We're here to bring your wine labels to life.
We'd love to help you with your wine labels, do not hesitate to contact us with any questions or queries you may have.