Design Studio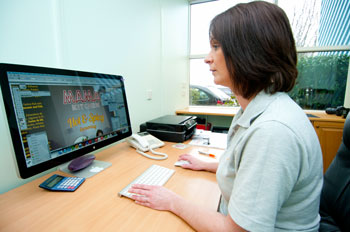 If you do not have the time, inclination or expertise to design your own labels let us know about your requirements and our professional graphic designer Rachel will create your label design for you. For technical labels, if you have your print details/database on a spreadsheet, send it to us and we can print directly from that using your information. The more detail and material you can supply, the more suitable the finished label design will be. We are happy to produce your label design from basic text information and/ or images and graphics.
File Format
Jpeg images
Tiff images
PDF
Photoshop/ Illustrator source files
Methods of File Transfer
*E-mail – studio@lotuslabels.com for files of up to 0.5 GB, or via file transfer services for larger files (Dropbox, Wetransfer, etc.) or you may send a physical memory device to our address at: 1 Park View, Alder Close, Eastbourne, BN23 6QE, East Sussex, UK]
Additional Artwork Information
Artwork Copy
Please include a colour proof where possible. If you do not have this facility, please provide a black and white composite and colour separations.

Reproducing Photos / Scanning
If we are producing a photo / picture in up to 4 process colours, the original scanned file must be 300 dpi, assuming that the file is going to be used at 100%. A scan of anything pre-printed is not generally suitable.

Colours for flexo printing
Your labels will be printed with up to 7 colours. Please ensure that 4 colour pictures have been converted and saved as CMYK values. The maximum screen ruling is 150 dpi with a minimum 3% dot.


Objects and Text
Please ensure that any placed EPS's [or equivalents] are provided. Black text should be set to overprint. All special fonts should be supplied ensuring both suitcase fonts and postscript fonts are present. If this is not possible, all text should be outlined.

Bleed and Cutter Lines
The design should bleed outside the cutter line by 1mm. Cutter lines should be placed on a separate layer for easy removal. Cutter lines also need to be editable within an EPS file or removed completely. Label dimensions, radius corners, colours, instructions etc, may be placed in a README file or emailed.

Colour Matching
Flexo printing (inks) can be colour matched. Foil Blocking cannot be colour matched, only matched as close as foils allow. Tints cannot be reproduced.
Send any design resources and/ or instructions to studio@lotuslabels.com
If you are not sure what you need to send us let us know and we will be happy to guide you through the process. Please refer to our label design guide in our services section for more useful label design tips.