Thermal Direct Labels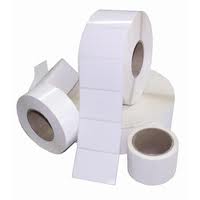 One of the UK's Leading Suppliers of Thermal Direct Labels!
Thermal Direct labels are available in a range of standard and custom sizes and can be pre-printed with your information.
Standard sizes are available online in the following options:
Materials:
Direct Thermal Uncoated – thermal paper labels for short term use, very limited resistance to marking or smudging and contact should be avoided with moisture, oil and fats. Ideal for short shelf life products, carrier/shipping labels.
Direct Thermal Top Coated – Top coated direct thermal paper labels have a coating which prevents the thermally-printed image from being contaminated by condensation, fats, grease, solvents and plasticizers from packaging films that the labelled product may come into contact with during transportation and storage.
Adhesives:
Permanent adhesive provides good adhesion to all normal surfaces, including films and cardboard.
Peelable adhesive provides good adhesion to all applications that require the label to be removed (peelable).
Freezer adhesive is particularly suitable for cold-storage applications.
Call our sales teams for more information on 0044(0)1323 737888 or [email protected]
**labels shown are for visual representation only**